EnMardel
Contract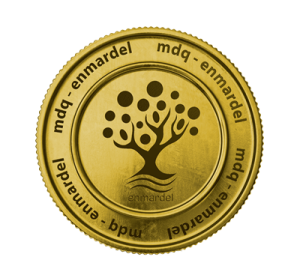 Our objetive, to plant trees.
We live in difficult times, of massive destruction to ourselves and the environment, that is why the objective of the creation of this Token is to be able to contribute and give back to nature, trees and thus be able to help have a better quality of life , with more oxygen, less droughts, big fires, more birds, etc. We will begin to plant trees in the City of Mar del Plata and continue throughout the rest of the world, which is why support for this project will be essential.
---
Why do this with blockchain technology
This is the new Internet, it is almost a "new industrial revolution". The traditional network gave us Information, now it will give us Value, since when it is distributed it belongs to everyone, we will benefit from passive income, we will have more time to do what we like. Unfortunately, this pandemic showed us how vulnerable we are and what needs to be changed. Taking advantage of Blockchain technology gives us much more security on the network, since being a distributed protocol, it is almost impossible to be hacked, as it can result in a centralized platform. That is why I invite you to participate in this project, it will be for the benefit of all, I hope I can count on you.
Token distribution plan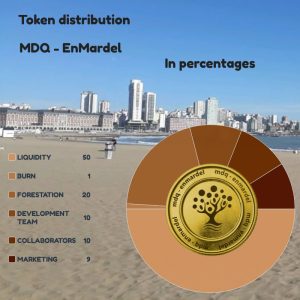 ---
Road map
First quarter 2022
We start with marketing
Sale to private
Website updates and improvements
Presale sale
NFT construction
Second quarter 2022
Launch of Original CDs NFT
Sale of original CDs and NFTs from No. 100 to 80
Second marketing campaign
EnMardel App Enhancements
Website improvements
Third quarter 2022
Third marketing campaign
Auction of original CDs from No. 79 to 60
First burning of tokens
EnMardel App Enhancements
Website improvements
Fourth quarter 2022
Fourth marketing campaign
Auction of original CDs from No. 59 to 40
Coordination for afforestation
Second token burn
New developments
ATTENTION: for people who are just starting out in the world of cryptocurrencies, I have included a special HELP area in this portal where you will find an introductory dictionary and excellent video tutorials.